It's nice to have you here…
Pilates & Nutrition in Mallorca
My name is Christian Werner, I am a BSA certified Pilates mat trainer and nutritionist with a B license.
My name is Christian Werner, I am a BSA certified Pilates mat trainer and nutritionist with a B license.
All my life I have done sports, starting with athletics, football and later tennis, skiing and running. I could and can still enjoy every sporting activity today.
I came to Pilates about 5 years ago and since then I haven't let go.
During the course of my life I felt more and more problems and strain in the back and pelvic area due to my mainly sitting activity in the IT industry during the day. Wrong training and bad posture, as well as wrong nutrition brought me sometime to rethink.
The Pilates method strengthened my muscles in the middle of my body relatively quickly, through the stretching exercises I was able to improve my flexibility many times over and my posture improved so much after only a few months that my problems were reduced to a minimum.
As a wonderful side effect, the targeted training has also brought more peace into my life that is all too often imbalanced by my job, Pilates is meditation in motion!
By switching to a healthy diet, but above all by the regularity of my food intake without giving up anything, I lead a more balanced life today and feel strengthened to cope with my daily life.
I completed my training as a Pilates and Nutrition Trainer at the BSA Academy in Munich and successfully completed it with a state examination and approval.
I enjoy helping other people to learn the Pilates method and to accompany and motivate them in their nutritional goals.
"Physical fitness is the first requisite of happiness."
 by Joseph Pilates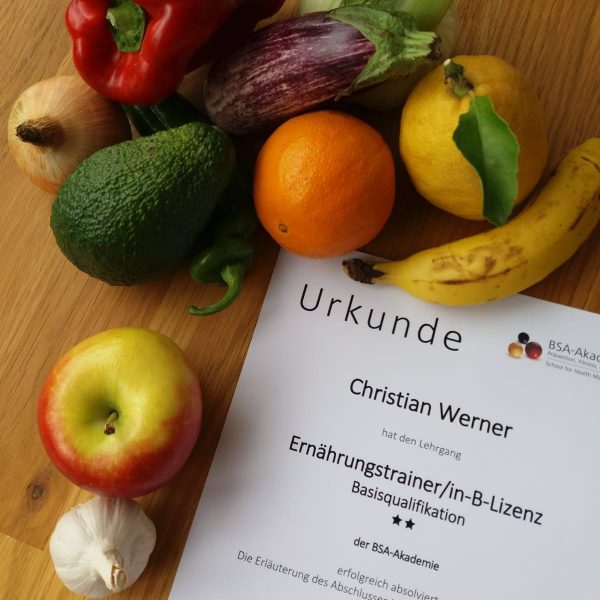 The principle of prevention is at the heart of my work.
Through Pilates and following certain simple dietary rules, I try to help you lead a more conscious and energetic life.
I am a certified Pilates and Nutritionist BSA and would like to show you new ways to keep you physically and mentally fit, bring healthy routines into your life and integrate them into your everyday life.
Working with people who are interested in changes and transformations is what excites me. Making my passion a vocation is an important process in my own life.
My friendly and patient way of teaching will inspire you. I have very high-quality standards and work with a high level of professionalism, both in Pilates training and in nutrition consulting. My claim is that you not only do things, but understand them.
In Pilates training you can strengthen your body after only a few hours. Together we work intensively on your deep abdominal, back and pelvic floor muscles. This will soon have a positive effect on your posture and flexibility. By adhering to certain dietary rules and creating an individual diet plan without sacrificing anything, you will achieve your long-term goals and be more self-confident with new insights through life.
10% new customer discount!